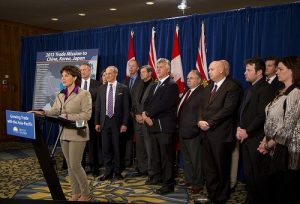 Less than a week after closing off her Jobs and Trade Mission to Asia, B.C. Premier Christy Clark was again joined by labour leaders to discuss LNG projects and what they mean to the province and its workers.
This was amidst recent concerns around her much-hyped but faltering Jobs Plan for the province.
Recently NDP Finance Critic Mike Farnworth said in a statement that the plan was a failure, citing that B.C. added a dismal 1,800 jobs in the last year, while some 15,500 jobs had been lost and over 12,000 British Columbians had left to seek opportunities elsewhere.
Liberal Finance Minister Mike de Jong also admitted that the plan was "not where they hoped it would be."
"This Jobs Plan has been a bust" said Farnworth.
While admitting that the progress had been slower, and the plan less effective than expected, Clark was less inclined to call the plan a failure.
"The reality is we are now living in a world where economic growth is slow," said Clark. "That's the reality of the Western world."
Clark's hopes rest on the province's LNG tax and royalty structures which will be tabled next year, which she believes will see billions of dollars of revenue pour into the province as the LNG projects start to break ground in northern B.C. Smoothing the road for these investors was the main purpose of the recent Asian trip, and no small portion of the concerns investors have surround the available supply of skilled labour in B.C.
To address this, prominent labour leaders (including IUOE Local 115's Business Manager Brian Cochrane) joined Clark during her trips to show a shared commitment between government and labour to make the projects a success and ensure B.C. workers are ready to get tow work when the projects start.
The Premier's address at yesterday's Canada/China Business Council also saw a strong representation from the same labour leaders. While they are fully aware of the stumbling results of the Jobs Plan, and the number of dollars and jobs at stake, IUOE Local 115's Brian Cochrane remained positive.
"We're on the verge of a lot of (the projects) coming together" said Cochrane during a Global News interview.
"When they do come together we're going to have a very big boom in this province, and we'll probably have the same for a very long time."
To watch the full video, click here.