Let's build Site C with an agreement that will maximize public benefits
The Operating Engineers are BC's dam builders.
We support the BC Government's December 2017 decision to complete the Site C dam. And we believe this taxpayer funded project should employ B.C. workers, and provide training programs to ensure future opportunities for the BC workforce.
The government has pledged to make local hiring a priority. With the BC Building Trades Council, IUOE 115 is urging the government to go further, and implement a comprehensive Community Benefits Agreement on the Site C project and all significant public projects in the provincial jurisdiction.
Our campaign has included advertisements, like the one below, featuring the workers who have built BC's previous dams under the historic Project Labour Agreements (PLAs). We travelled to Victoria to meet with government officials urging them to make sure BC workers come first.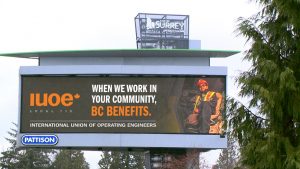 In late 2017, we re-opened our campaign with letters, news articles, and the leasing of billboard space at locations in the Lower Mainland.
Stand with us in helping to ensure BC workers are employed on projects paid for by our tax dollars, including apprentices, women and Indigenous people.  Sign up to show your interest in working on Site C, or write to Premier Horgan (Premier@gov.bc.ca) to tell him,  "I support Community Benefit Agreements".  Together, we can make sure BC workers build BC.