Building BC since 1931
Since 1931, IUOE Local 115 has helped to build some of the most important dams and infrastructure in the province, serving all British Columbians in their day-to-day life.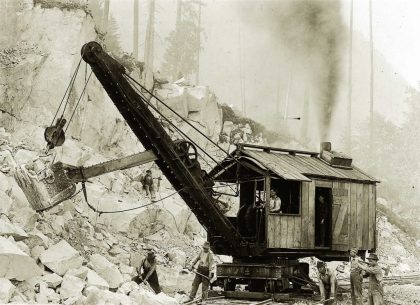 Operating Engineers have worked on most of BC's power-creating dams including the recently completed John Hart Generating Station Replacement. We built include the Waneta Expansion dam project, the Golden Ears Bridge, the BC Place roof and many more.
Operating Engineers also help to protect BC's communities. We are the Aerial Firefighters who risk their lives extinguishing wildfires throughout the province.
Local 115 has over 11,000 members who work in many industries. We are dam builders, crane and heavy equipment operators, road builders, aerial firefighters and mechanics. Our slogan, "rise above" refers to our members who work in high-altitude, high-risk environments as well as our approach to protection, compensation and empowerment of workers.
Standing up for working people
Beyond the great work our members do in the field, Local 115 has a long history of advocating for workers' rights. We challenge unfair labour practices and promote fair wages and fair treatment for IUOE members and working people across BC.
These efforts make a difference. Over many years, IUOE Local 115 and our sister building trades unions have helped to shape the laws that govern employment standards, safety and training.
For example, in the mid-2000s the BC Liberal government came close to abolishing licensing and performance standards for crane operators. Cranes are complex machines, and an untrained crane operator can put other workers and the public at risk. Local 115 conducted a campaign that resulted in a new testing and licensing system. The story is told in our video, Crane Certification in B.C.
More information on the history of IUOE Local 115 can be found in the book Firing Iron.