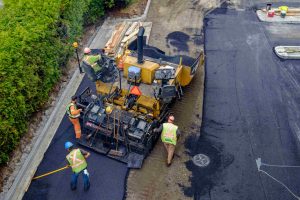 Course Length
4 Weeks
Job Description
Our Asphalt Paving/Laydown Technician course provides the in-school technical training that is the first step in completing B.C.'s Asphalt Paving/Laydown Technician apprenticeship program. The four-week course includes both classroom (theory) and field (practical) instruction.
Graduates will complete their apprenticeship training on the job, developing the required competencies defined in their program log books.  Completion of this apprenticeship leads to a B.C. Certificate of Qualification with endorsements.  From road building principles to environmental practices to equipment maintenance and operation, this program is a step towards a successful career in the asphalt paving industry.
Asphalt Lay-Down Operators are persons who operate paving equipment used to apply asphalt to a specified surface on various types of projects. This vocational field requires equipment-specific occupations.
Asphalt Lay-Down Operators must be capable of performing tasks in close proximity to other people, equipment and obstacles. The job requires that they be capable of completing duties in all types of weather, under the stress of production demands, in potentially hazardous conditions (e.g., fumes, traffic) and in a noisy, high temperature, dirty environment. Knowledge and awareness of a variety of safety issues and their practice is essential.
Depending on the construction project, travel, irregular shift work and/or long hours may be required. Operators must be physically fit, capable of lifting, pushing and climbing. The duties of asphalt lay-down require: good eyesight (including peripheral vision), the ability to judge thickness of material, good hearing (for audible communications).
These persons must pay attention to detail and adapt to frequently changing work procedures. A mechanical aptitude and previous equipment experience would be considered assets for the Asphalt Lay-Down occupations. The Operator's interaction with co-workers, supervisors, trades people, clients, inspectors, and consultants of job-sites requires good communication skills.
Program Overview
Road building principles
Introduction to paving
Asphalt paving safety
Asphalt production and products
Testing and quality control
Environmental considerations
Road structures
End product specifications
Equipment safety, maintenance and operation
Operations and Equipment Training
Raking
Paver
Compact Roller
Screed
Milling Reclamation
Required Endorsement Hours
Rakerman: 250 hours
Asphalt Paver: 300 hours
Compact Roller: 300 hours
Asphalt Screed: 400 hours
Asphalt Milling Machine: 300 hours
Pre-Requisites
Program admission requirements are as follows:
Minimum 70% on the IUOETA Trades Assessment
Valid Drivers license
Minimum Grade 10 recommended
Level of Competency
The asphalt paving training course will provide the necessary theoretical knowledge and the practical skills for entry level into the trade. Further on-the-job experience will be required to advance to the position of journeyperson operator. Upon program completion, the apprentices will receive:
 ITA Certificate of Qualification with equipment endorsement
Endorsements for completing prerequisite competencies for multiple machines
Preferential hiring and enrolment in industry training programs
Course Fees
Fees: $5,700
Registration:  $150
Text books:  $150
Total:  $6,000
Application & Examination Process
Students will write theory examinations and will also be assessed on job performance standards. Punctuality, attendance and attitude will also be considered in determining the final course grade. Students must attain marks of 70% or more (criteria established according to standards) for theory and practical assessments.
Successful completion (70%) of the OETA Trade Assessment Examination is required for this course. Examinations are scheduled by the OETP at any Operating Engineer's offices.
Examination subject areas are:
Math Foundations
Industry Related Problems
Problem Sets
Wallet cards and certificates of completion will be issued upon successful completion of the course.
If you are interested in this program, contact the Training Association office and obtain an Application for Training package. Complete the package and submit it to the nearest Operating Engineers Office to be forwarded to the Operating Engineers Training Association. Applications will be submitted to the IUOE 115 Training Coordinator for review.
Include with your application a resume, appropriate reference materials, a copy of your Driver's abstract and/or license, and any other supporting or reference material.
Qualified applicant files will go before a selection committee. Successful applicants will be assigned to the class upon confirmation of their ability to attend.