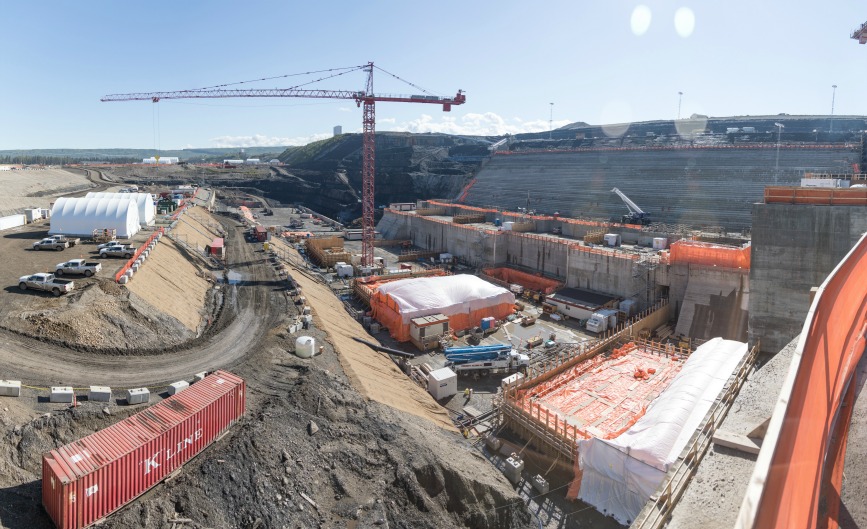 After decades of planning and consultation, the Site C Dam project was approved for construction in 2014. As the third BC Hydro project on the Peace River system, Site C will take advantage of water already stored in the Williston Reservoir behind the WAC Bennett dam.
In Phase 1 of the project, project managers favoured the use of non-union contractors or contractors working with employer-dominated unions. The result, as identified in 2017 by a project auditor, was unsafe conditions, low worker morale, and high employee turnover.
IUOE Local 115 tried to organize part of this dispersed, unstable work force to provide better representation and safety under a Union contract. Because of an unfair BC Labour Board decision, the Union's application was denied.
For Phase 2, the Spillways and Generating Station, Local 115 formed a relationship with AFDE, an engineering and construction joint venture. In May 2017, a new provincial government was elected, and bidding on Site C work was opened up to all contractors. AFDE became the prime contractor for the Spillways and Generating Station.
The first Local 115 member started work in June 2018, and participation ramped up quickly. As of spring 2019 there were 100 members on site – crane operators, mechanics and service people, loader and telehandler operators.
The Site C Dam is scheduled for completion in 2024, providing enough energy to power the equivalent of 450,000 homes per year in B.C.