Tell Prime Minister Trudeau: "NO" to the Trans Pacific Partnership.
The Trans Pacific Partnership (TPP) has been the focus of negotiations among Pacific Rim countries for almost 10 years.
Former Prime Minister Stephen Harper was a strong supporter. Canada signed the deal in principle in early 2016.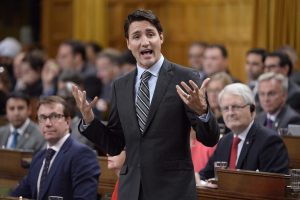 The Liberal government of Justin Trudeau has not yet ratified the agreement. At a meeting of Asian leaders in November 2017, Prime Minister Justin Trudeau said Canada is not yet ready to commit to the TPP. So which is going to be? Yes or no?
Many Canadian organizations, including IUOE 115, oppose the Trans Pacific deal because it puts Canadian jobs at risk.
Among other negative features, the TPP would allow foreign companies to bid on Canadian projects and import less trained, cheaper employees. Canadian workers could be denied opportunities despite being better qualified and available for work. It appears that no Canadian tribunal would have jurisdiction over wages or hiring practices for temporary foreign workers.
Canada would also lose control in a number of other areas, including food safety, prescription drug pricing and environmental protection.
If you're concerned about the Trans Pacific Partnership, visit the Canadian Labour Congress to find out more, and spread the word in workplace and with your friends.
And let's send a message to the Prime Minister: Canada doesn't need the Trans Pacific Partnership or other bad trade deals.