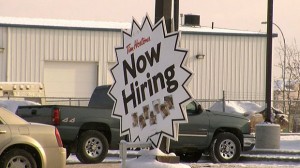 Unions in the Elk Valley say they always have time for Tim Hortons' workers – when they are fighting for fairness in their workplaces in Fernie and Blairmore after allegations of abuse.
Tim Hortons' workers who are in Canada from the Philippines on temporary work permits allege that local Tim Hortons' restaurant owners have exploited them by forcing repayment of legal overtime, even driving employees to the bank and waiting while they cashed cheques to get back the money.
The workers have filed Employment Standards Act complaints with the assistance of the United Steel Workers Local 9346, the International Union of Operating Engineers Local 115 and other unions. These unions are joining with the BC Federation of Labour in calling for an RCMP investigation as well.
Former Tim Hortons' workers Heidi Kibanoff and Richard Pepito alleged owner Pierre Pelletier forced the overtime paid to employees came back to him — in cash — even driving employees to the bank and waiting while they cashed their pay cheques.
"Local union members are behind these Tim Hortons' workers 100%.  We want to help any exploited workers escape abuses," says Brian Lefebvre from IUOE Local 115.  "Until a full and robust series of investigations settle this matter, the labour movement in the Elk Valley will provide legal and moral support for workers stepping forward in these uncertain times."
Alex Hanson from Steelworkers Local 9346 said the union was approached 10 days ago by Vancouver-Kensington MLA Mabel Elmore to investigate claims made by current and former workers at the Fernie Tim Hortons' location.
"What I found were some very upset workers who had felt taken advantage of by their employer," Hanson said.  "The evidence I've seen seems to back up their claims. What we really need now is a full RCMP investigation into these allegations."
"We're asking for local businesses in the East Kootenays to step up and help us find alternative employment for any affected workers," Hanson said. "This is simply a case of workers in our community stepping up to help other workers in need."
For a video expose on the case brought against the Elk Valley Tim Horton's, visit this CBC link.