Let's maximize community benefits from public construction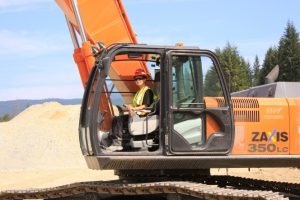 IUOE 115 and our sister construction unions are urging the Government of B.C. to manage public construction – dams, highways, and major public buildings – in a way that guarantees benefits to communities and workers.
We're proposing Community Benefit Agreements. These agreements will bring government, contractors, labour and communities together to ensure cost stability on projects and opportunity for B.C. workers.
It's a way to provide increased access to work for IUOE 115 members, and leave a legacy of training and work experience for towns, villages and First Nations across the province.
If you support our Community Benefit Agreement proposal, please write to Premier John Horgan, Premier@gov.bc.ca, and tell him, "I support Community Benefit Agreements."
To stay updated on IUOE 115's Community Benefit Agreement campaign and related campaigns, write to campaigns@iuoe115.ca
Community Benefits and Site C
On December 11, 2017, Premier John Horgan announced that the Government will move forward to completion on the Site C dam project.
The Government's announcement made reference to "community benefits programs" that will "increase the number of apprentices and First Nations workers hired on to the project."
This is a positive signal, but a lot of work is needed to build a detailed Community Benefit Agreement for Site C that will ensure fairness for construction workers and communities.
What is a Community Benefit Agreement?
Under the BC Liberals (2001-2016), government used a "low-bid" model in public construction, supposedly to reduce costs to taxpayers. It allowed contractors to avoid any responsibility for local hiring and training.
On the Site C dam project, this approach has caused big headaches – quality control issues, budget overruns, and the use of workers from outside B.C.
It doesn't have to be like this. B.C. has a proud tradition of building our dams, highways and industrial plants in a collaborative way. It's time to restore this tradition.
Under the Community Benefit Agreement, union and non-union contractors are free to submit bids and win contracts. However, all workers, whether their employer is union or non-union, will receive the fair pay and benefits that are negotiated between participating unions and employers. Wages are set for the life of the project, with a guarantee of no labour disruptions. Project costs are predictable.
Community Benefit Agreements will require all employers to recruit locally, provide apprenticeship and other skills training, and offer Indigenous people and women the chance to succeed in well-paid jobs.
It's a win-win-win system of construction management. It's a tool that will bring the cost of projects like Site C under control while building local support for public construction.
If we want to the Government of B.C. to act, we need to let them know! Contact the Premier at Premier@gov.bc.ca.  You can copy IUOE and stay updated on this and other IUOE campaigns by writing to campaigns@IUOE115.ca.
To find out more:
Read IUOE 115 Business Manager Brian Cochrane's article in the Province newspaper from November, 2017.
Read Brian Cochrane's letter to Premier John Horgan dated December 14, 2017.
Read about our Local's current participation in the project labour agreement on the John Hart Dam (Vancouver Island.)