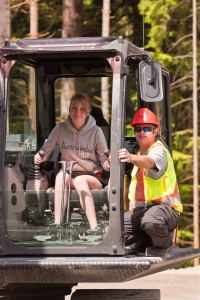 On Saturday, June 15, the IUOE Local 115 hosted its annual Training Association Open House and Heavy Equipment Rodeo.
Local 115 is a firm believer in the importance of trades training in order to meet the demands of BC's growing economy and its ongoing investment into infrastructure and residential development projects.
The event was very well attended and showcased over 40 pieces of equipment going about their duties at the association's real-life facilities in Haney, Maple Ridge. Over 1,000 members of the public, young and old, from seasoned equipment veterans to pre-school potential operators, had a chance to man the controls of the various machines, take part in fun events and competitions, and enjoy a free lunch as well.
Local 115 Business Manager Brian Cochrane says that the importance of hosting the Open House cannot be overlooked.
"British Columbia's economy is in the midst of a massive and ongoing expansion in the residential and industrial sectors that calls for an increasing number of skilled tradespeople and operating engineers. Local 115 and our Training Association are here to ensure that we are able to meet and make the best of these growing needs with skilled, qualified workers" he says.
B.C. is indeed seeing large amounts of investment in skills-intensive, large scale projects over the coming decade. New LNG plants and pipelines are being fast tracked in Northern B.C. to meet the growing energy demands in Asia. 'Site C', BC Hydro's proposed 8 billion dollar Peace River hydroelectric dam, should complete its environmental review process in late 2013. The Skytrain is undergoing a $1.4bn eastwards extension, major highway improvements total over $3.3bn, and the $6.5bn Northern Gateway oil pipeline project represents the largest private investment capital in the province's history. Even Donald Trump sees potential, and has announced a $360m investment into an iconic 63-storey hotel and condo development in Vancouver's downtown core.
While this translates into thousands of potential job opportunities for trades workers, academics and labour organizations warn that a major shortage of trades and professional skills will see demand outstrip supply by 2016. Increased investment and accessibility to training programs is going to be crucial in meeting demand, and Local 115 is making significant investments to make sure that Operating Engineers are well positioned to secure these opportunities.