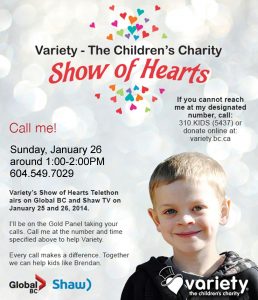 Once again, IUOE Local 115 has opened its heart to Variety the Childrens' Charity, and as a long time Gold sponsor of this worthwhile cause, will take part in their 48th annual Show of Hearts fundraising telethon on January 25 and 26, 2014.
Starting Saturday evening, the telethon show will feature artist performances from Diana Krall, Stevie Wonder and Faith Hill during a tribute to Barbra Streisand, as well as a televised Elton John performance.
On Sunday we can look forward to showcases from Adele, Cirque du Soleil, Mumford and Sons, and a MusiCares tribute to Bruce Springsteen.
Also on Sunday January 26, IUOE Local 115 Business Manager Brian Cochrane will be on the show's Gold Panel between 1:00pm and 2:00pm. We encourage all members to call his donation line on 604 549 7029 with your generous pledges during this time.
The show will be capped by a prize draw for a 7 night dream vacation to Antigua for four people.
Global BC will be at the venue televising portions of the telethon, and Local 115 will also be featured as Gold Sponsors, who this year raised $10,000 which was donated to the charity.
This year sixteen Local 115 staff will be manning the phones taking pledges, encouraging the public to participate and donate generously. Look out for Local 115 on Global BC during Sunday afternoon's from 1:00pm.