35th anniversary highlights rising worker deaths due to exposure
January 7, 2016
VANCOUVER – IUOE Local 115 joined the BC Building Trades and other unions from around the Lower Mainland Thursday in commemorating the Bentall Tower IV construction workplace fatalities of 1981.
35 years ago four workers, Gunther Couvreux (49), Donald W. Davis (34), Yrjo Mitrunen (46) and Brian Stevenson (21), were killed on the job.  The four plummeted 36 storeys to their death when a fly form gave way as they were working on or around it.
The incident is considered one of the most infamous construction controversies in BC history and resulted in construction safety regulation changes.  However, IUOE Local 115 Business Manager Brian Cochrane says even with vast safety improvements since 1981, there's still more work to be done: "The Bentall IV tragedy reminds us every year dozens of workers die in our province due to dangerous workplace conditions."
Since the Bentall IV accident, 942 BC construction workers have lost their lives due to trauma or illnesses related to dangers in their workplace.  This year saw a surge in construction deaths.  44 construction workers died: 26 from exposure and 18 from trauma.  That's a 40-percent increase from the 31 workers who died the year before.  Only 19 of those worker deaths were due to exposure.
"Though the construction industry today is safer than it was 35 years ago, even one worker death a year is too many, and increasing workplace safety is still an issue," says Cochrane.  He adds the upsurge in exposure deaths this year prove historical unsafe work conditions continue to be a cruel reality for workers today.
Cochrane urges the importance of remembering the brothers and sisters whose lives are represented in workplace death statistics, who were loved and will always be deeply missed by their families and friends.
IUOE Local 115 joined other participants at the commemoration in laying wreaths and roses for workers who died this year at the Bentall Memorial plaque near the Burrard Skytrain Station.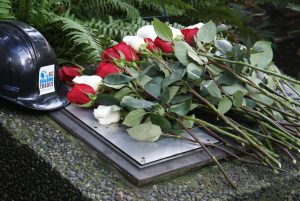 Roses on the Bentall IV  memorial plaque in remembrance of 44 workers who died this year from exposure or trauma on the job.
For more information on the Bentall IV tragedy, as told by the families of the workers, please see the video below: