IUOE Local 115 Continues to Call for Mandatory Training and Certification of Crane Assembly and Dismantling Personnel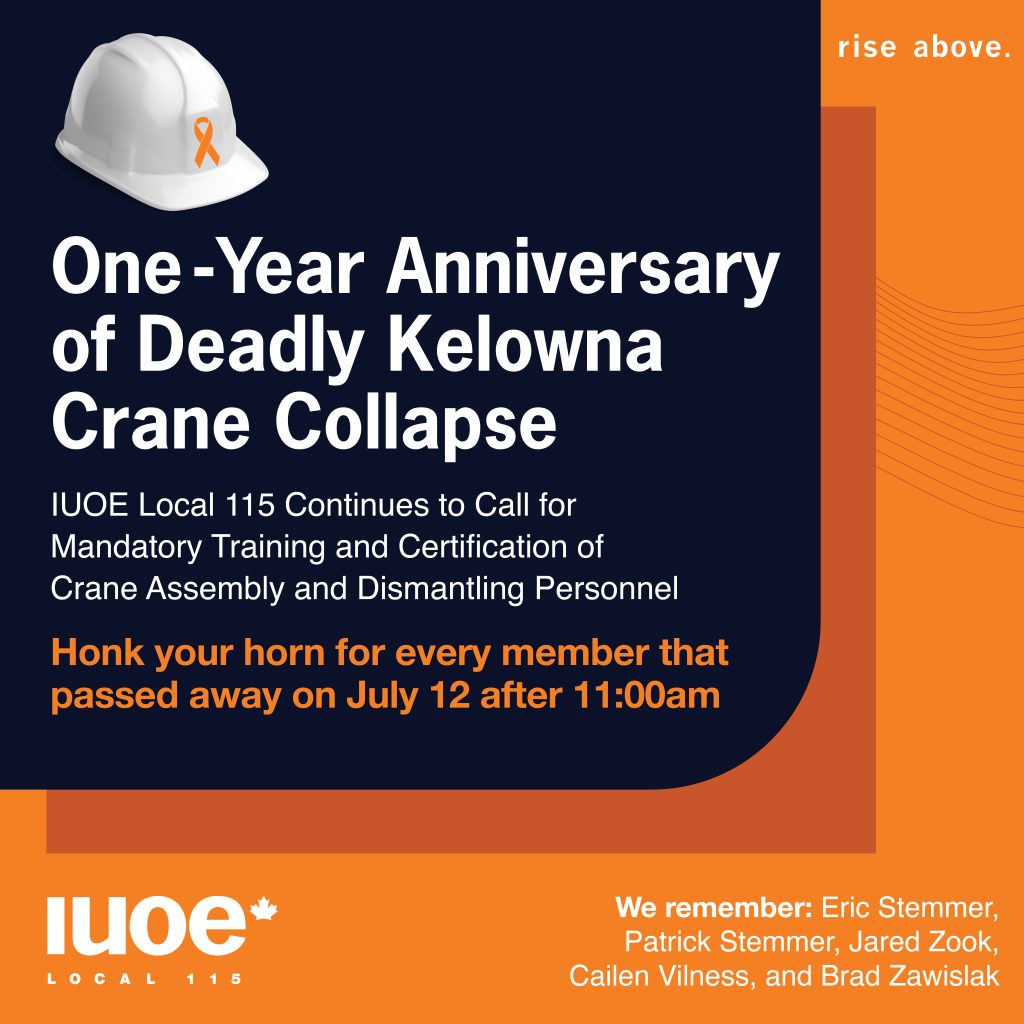 Burnaby, BC (July 12, 2022)
One year ago today, a deadly crane collapse in Kelowna injured many and killed five construction workers.
IUOE Local 115 remembers those that lost their lives in this tragic event in Kelowna, BC on July 12, 2022 at approximately 11am.
On this day every year, IUOE Local 115 will honk their horn for every member that passed away.
We remember, Eric Stemmer, Patrick Stemmer, Jared Zook, Cailen Vilness, and Brad Zawislak.
"I hope I never have to go back to my truck and honk for another fallen worker ever again. It's a tragedy that should never have happened," says Brian Cochrane, IUOE Local 115 Business Manager.
Currently there are open investigations into the Kelowna Crane collapse last summer being conducted by both WorkSafeBC and the RCMP.
For the last year, IUOE Local 115 and its business representative Frank Carr have been engaging in dialogue with key stakeholders, including the provincial government, WorkSafeBC, and City of Vancouver to bring awareness to the tragedy and reform safety requirements in the crane industry.
Along with government, Carr has been leading a working group with the BC Association for Crane Safety (BC Crane Safety), signatory contractors and industry stakeholders to review and recommend critical changes to tower crane safety regulations in the province.
Many of the immediate recommendations initially came from our contractors, Remi and Gary Coupal (Coupal Cranes), Tony Violette and Mike Scott (Tall Crane), and Eric Kan (Kansen Crane). They were quick to endorse a review of current practices following the incident and have become strong advocates to making safety a priority for our members, worksites and the public at large.
The City of Vancouver, is the first municipality to have implemented a number of recommendations from the working group, following the crane collapse in Kelowna. The pilot they launched helps to address some immediate issues, including:
Pre- and post-assembly meetings and checklists;
Full lane closures and better traffic control;
Weekday tower crane erection and dismantling;
Pedestrian and cycling lane closures;
Larger staging and mobile crane set up areas; and
Granting permit extensions and allowing additional full days for crane assembly and dismantling to reduce pressure on workers to get the job done under tight timelines.
Carr says, that the pilot is a great first step, but that when the results of the investigations are concluded, these and many other practices should be the norm across the province, with WorkSafeBC enforcing a higher standard of safety for all crane operators and contractors."It's great to see Mayor Kennedy Stewart and the City of Vancouver's engineering department take action to improve the safety within the industry and to educate our population about the impacts these changes will have on our region's growth and day to day lives."
Throughout the past 20 years, IUOE Local 115 has been lobbying for mandatory tower crane operator certification and increased industry safety standards. To date, Vancouver's construction market has approximately 240 active tower cranes, with another 280 operating throughout the province. The assembly and dismantling of tower cranes are largely completed under tight timelines in high traffic and congested areas.
IUOE Local Business Manager Cochrane adds, "Operating Engineers in an effort to build our province, will always encounter new obstacles and challenges and it is our role as a union, to establish and put in place best practices that help government, workers, and industry thrive, and ensure everyone returns home safely at the end of the work day."