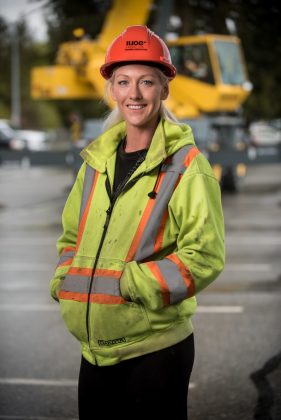 Duncan resident Irene Elliott showed a flair for her new trade last month, winning a bronze medal in the Mobile Crane competition at the annual Skills Canada BC event in Abbotsford.
As a mother of sons aged 12 and 13, Elliott has joined a wave of B.C. women who are moving into the skilled trades as a second career. She was one of five apprentices selected for the Mobile Crane skills competition.
"After spending a lot of years in social work, I decided to give it up," she said as she waited to compete. "It was so emotionally draining. I turned up a job as a forklift operator, and I discovered I liked working with equipment. When I got a chance to train on the construction cranes, I said, why not?"
Elliott comes from a family of tradespeople. Her father Lance and brother Cody are members of the International Union of Operating Engineers Local 115. Lance knew that the Local 115 training centre in Maple Ridge offers a national (Red Seal) certificate in Mobile Crane. He worked with his daughter to reserve space in an intensive Level 1 training course that began just five weeks before the Skills Canada BC event date.
Mobile Crane competitors at Skills Canada BC are scored by a panel of experienced crane operators based on a written exam, crane set-up and inspection, and a set of crane lifts through an obstacle course. Elliott finished third in the field of five.
"I would like to get my Red Seal and continue as a crane operator and a union member," she said. "I thrive on learning, and I want to be a well-rounded operator. And I want to stay on Vancouver Island."
Source: Lake Cowichan Gazette