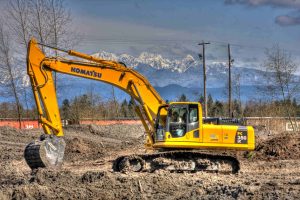 Course Length
3 Weeks
Job Description
The Foundation Program is a three-week course that provides new workers with an introduction to the road building industry. It gives you a valuable overview of career opportunities, safety practices, an orientation to job site operations, equipment, tools, operations and maintenance as well as providing a fundamental introduction to civil engineering.
A career that offers:
Equal opportunity for men and women age 16 and up
Excellent earning potential, employee benefits and opportunities for advancement
Opportunity to learn a wide range of skills
On-the-job training and apprenticeship programs
A dynamic and technologically advanced workplace
Variety and challenges
Environmentally conscious industry
A commitment to a safe working environment
Seasonal, full-time or part-time work
The choice to work outdoors or in an office environment
Opportunity to be a proud builder of BC
The chance to be an innovative team player
A career with a future
Course Outline
Industry orientation and overview
Orientation to road building and heavy construction
Worksite health and safety including Level 1 First Aid, Traffic Control Certification
Environmental requirements
Tools and Equipment Operations and Maintenance
Hand and power tools
Ladders and scaffolds
Rigging and material handling
Basic heavy equipment operation and maintenance
Civil Engineering Principles
Surveying and construction
Drainage
Basic soil mechanics/geology
Aggregates, asphalt pavement, concrete
Worksite Preparation
Employment skills
Worksite employee roles
Communication skills
Pre-Requisites
Program admission requirements are as follows:
Minimum 70% on the IUOETA Trades Assessment Exam
Valid Drivers License
Minimum Grade 10 recommended
Level of Competency
Upon program completion, participants will receive:
Level 1 First Aid Certificate
Traffic Control Certificate
Preferential hiring and enrolment in industry training programs and apprenticeships
Course Fees
Tuition:  $500
Registration:  $250
Text books:  $250
Total:  $1000
Application & Examination Process
Students will write theory examinations and will also be assessed on job performance standards. Punctuality, attendance and attitude will also be considered in determining the final course grade.
Successful completion (70%) of the OETA Trade Assessment Examination is required for this course. Examinations are scheduled by the OETP at any Operating Engineer's offices.
Examination subject areas are:
Math Foundations
Industry Related Problems
Problem Sets
If you are interested in this program, contact the Training Association office and obtain an Application for Training package. Complete the package and submit it to the nearest Operating Engineers Office to be forwarded to the Operating Engineers Training Association. Applications will be submitted to the IUOE 115 Training Coordinator for review.
Include with your application a resume, appropriate reference materials, a copy of your Driver's abstract and/or license, and any other supporting or reference material.
Qualified applicant files will go before a selection committee. Successful applicants will be assigned to the class upon confirmation of their ability to attend.