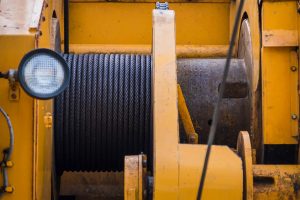 Course Length
7 Weeks
Job Description
Under minimal supervision, Mobile Crane Operators are required to plan their work from either a written or verbal work order. They are required to work under all kinds of environmental and hazardous conditions, sometimes in confined spaces.
They may be responsible for the operation of a wide range of makes, models and types of conventional (friction) and hydraulic cranes, on public roadways, closed job sites or marine settings. They may also be required to perform minor repairs and maintenance on the machines and related equipment.
Mobile Crane Operators must have a good mechanical aptitude, basic math skills and be able to communicate effectively with all job site personnel and supervisors. Physically, they must have a good level of stamina and sense of balance. They must have good eyesight and excellent depth perception. Operators must be able to work safely for long hours, under stress and with the pressure of deadlines.
Mobile crane operators may also be required to pass a drug and alcohol test prior to employment with a contractor.
Course Outline
The duration of this Level 2 course is 7 weeks, consisting of 4 weeks theory and 3 weeks practical. At the end of the course, apprentices must successfully complete both the completion final exam, as well as the Interprovincial Red Seal Examination.
Building on the Crane Common Core (Level 1), the course includes the following training components:
Cranes, Knowledge
Transportation and Delivery, Knowledge and Practical
Site Planning and Crane Positioning, Knowledge and Practical
Crane Operations, Knowledge and Practical
Maintenance and Service, Knowledge and Practical
Lattice Boom, Knowledge and Practical
Apprentices continue with work-based learning, completing defined competencies and operational hours. Finally, apprentices must undergo an operator assessment in accordance with WorkSafeBC regulations.
Pre-Requisites
Program admission requirements are as follows:
Minimum 70% on the IUOETA Trades Assessment Exam
Valid Class 3 driver's license with Air Brake Endorsement (Class 1 recommended)
Minimum Grade 10 recommended
Completion of the Crane Common Core Course or credit from successful challenge
Level of Competency
The course will provide the necessary theoretical knowledge and practical skills for entry or upskilling in the trade.
Course Fees
Tuition:  $13500
Registration:  $250
Text books:  $250
Total:  $14000
Application & Examination Process
Apprentices must undergo an operator assessment in accordance with WorkSafeBC regulations.
Students will write theory examinations and will also be assessed on job performance standards. Punctuality, attendance and attitude will also be considered in determining the final course grade.
Successful completion (70%) of the OETA Trade Assessment Examination is required for this course. Examinations are scheduled by the OETP at any Operating Engineer's offices.
Examination subject areas are:
Math Foundations
Industry Related Problems
Problem Sets
If you are interested in this program, contact the Training Association office and obtain an Application for Training package. Complete the package and submit it to the nearest Operating Engineers Office to be forwarded to the Operating Engineers Training Association. Applications will be submitted to the IUOE 115 Training Coordinator for review.
Include with your application a resume, appropriate reference materials, a copy of your Driver's abstract and/or license, and any other supporting or reference material.
Qualified applicant files will go before a selection committee. Successful applicants will be assigned to the class upon confirmation of their ability to attend.