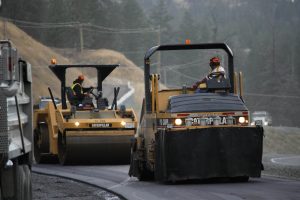 Course Length
12 Weeks
Job Description
This 12 week course is comprised of 3 programs running consecutively – Road Building Foundation, Heavy Equipment Operator (HEO) and Specialized Equipment – and is aimed at those interested in a career as a heavy equipment operator.
Why would you want to enroll in this program?
Over the next 5 years, BC will experience a shortage of approximately 2,670 heavy equipment operators, which means there will be about 534 openings per year. We are already experiencing severe shortages with excavator, loader, dozer, and heavy articulate rock truck operators. Backhoe operators are currently experiencing a moderate shortage of operators. With the introduction of major infrastructure projects like the Gateway Project, these numbers are likely to become even greater over the next several years.
The ITA Road Building and Heavy Construction Foundation Course is a three-week course the entry route into the road building and heavy construction industry. It is the career starting point, and provides a valuable overview of career opportunities, safety practices, an orientation to job site operations, equipment, tools, operations and maintenance as well as providing a fundamental introduction to civil engineering. Students earn a number of credentials including Level 1 First Aid, Traffic Control Person and WHMIS. This program is also a prerequisite for entry into the Heavy Equipment Operator Technician (HEO) apprenticeship.
The Heavy Equipment Operator (HEO) Technician program is an apprenticeship designated by the Industry Training Authority (ITA). The program combines two weeks of in-class theory instruction covering the following six pieces of heavy equipment: articulating rock truck (ART), backhoe, dozer, excavator, grader and loader. This is followed by two weeks of practical equipment lab training on the following four pieces of heavy equipment: ART, dozer, excavator and loader.
The final five weeks comprise the OETA Heavy Construction Training Course and focuses on practical skills, rotating through the following pieces of heavy equipment – ART, Backhoe, Dozer, Excavator or Loader. Apprentices will have the opportunity to specialize their practical on one or more machines.
The course will provide the necessary theoretical knowledge for the occupation as well as practical skills for entry level into the trade.
Program Overview
ITA Foundation Course (3 weeks):
Industry Orientation (focuses on safety)
Civil Engineering Principles
Tools, Equipment, Operations and Maintenance
Worksite Preparation
ITA Heavy Equipment Operator Technician Course (4 Weeks):
This module reviews important information regarding:  heavy equipment safety, types and operation, equipment inspections, systems, equipment maintenance cycles, work planning, transportation of the equipment, interpretations of grades and stakes, environmental protection, aggregates and drainage, and erosion control.
Excavator
Articulating Loader
Dozer
Backhoe
Articulate Haul Truck
OETA Heavy Construction Equipment Course (5 Weeks):
This program provides the theoretical and practical experience to allow apprentice's to develop those skills that Employers in the Road Building Industry are looking for:
Grades and Stakes
Heavy Equipment Operating Techniques
Course Outline
Week 1 – 3:
Orientation
Health and Safety
Environmental Requirements
Hand and power tools
Ladders and scaffold
Rigging and material handling
Basic heavy equipment operation and maintenance
Surveying
Drainage
Soil Mechanics and geology
Aggregates, asphalt pavement, concrete
Weeks 4 – 7
Heavy Equipment Types and Operations
Heavy Equipment Inspection and Maintenance
Diesel Engines and Hydraulic Systems
Work Procedures and Planning
Interpretation of Grades and Stakes
Transportation of Equipment
Environmental Protection
Aggregates and Compaction
Drainage and Erosion Control
Equipment Maintenance Cycles
Basic Operation of Each Type of Heavy Equipment
Weeks 8 – 12
Communications / Human Relations
Practical (Field) Training
Operating Techniques
Safety
Hydraulics
Grades and Stakes
Site Inspection
Regulations
Rigging
Environmental Concerns
Machines and Attachments
Service and Preventative Maintenance
Pre-Requisites
Program admission requirements are as follows:
Minimum 70% on the IUOETA Trades Assessment Exam
Valid Drivers license
Minimum Grade 10 recommended
Level of Competency
Upon program completion, participants will receive:
ITA Certificate of Qualification with endorsements for one or more pieces of equipment
Air Brake
Pipeline Construction Safety Training
Confined Spaces
Traffic Control
First Aid Level 1
Transportation of Dangerous Goods
Ground Disturbance
Telehandler
H2S Alive
WHMIS
Course Fees
Tuition:  $17000
Registration:  $250
Text books:  $750
Total:  $18000
Application & Examination Process
Students will write theory examinations and will also be assessed on job performance standards. Punctuality, attendance and attitude will also be considered in determining the final course grade.
Successful completion (70%) of the OETA Trade Assessment Examination is required for this course. Examinations are scheduled by the OETP at any Operating Engineer's offices.
Examination subject areas are:
Math Foundations
Industry Related Problems
Problem Sets
If you are interested in this program, contact the Training Association office and obtain an Application for Training package. Complete the package and submit it to the nearest Operating Engineers Office to be forwarded to the Operating Engineers Training Association. Applications will be submitted to the IUOE 115 Training Coordinator for review.
Include with your application a resume, appropriate reference materials, a copy of your Driver's abstract and/or license, and any other supporting or reference material.
Qualified applicant files will go before a selection committee. Successful applicants will be assigned to the class upon confirmation of their ability to attend.
*Students for this course may be eligible to apply for program funding through BC Student Aid.